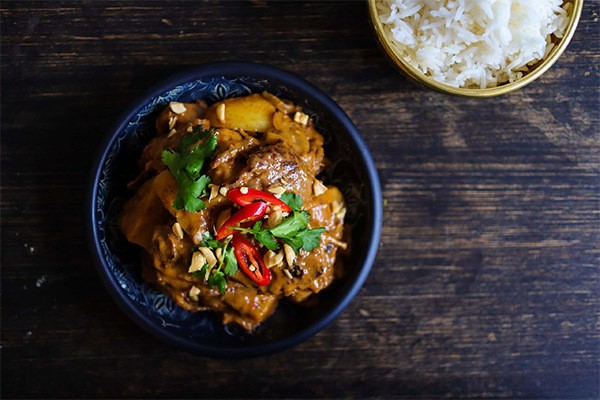 Massaman Fable Curry
Easy - 15 Min
style

Dish type:

Vegeterian
poll

Difficulty:

Easy
access_time

Preparation time:

15 min
timer

Cooking time:

40 min
place

Region:

India
euro_symbol

Cost:

RM85.00
Recipe offered by Classic Deli. Thanks to him!
Preparation
Ingredients
1 tbsp Tamarind pulp
2 tbsp Oil CAS-00019
500g Fable FAB-00001
500ml Coconut milk
4 Cardamon pods, bruised
500ml Coconut cream
3 tbsp Massaman curry paste
8 Baby onions
8 Baby potatoes
2 tbsp Fish sauce
2 tbsp Sugar
70g Unsalted roasted ground peanuts
½ handful Coriander leaves

Optional
Step by Step
Step 1 : Put the tamarind pulp and ½ cup boiling water in a bowl and set aside to cool. When cool, mash the pulp to dissolve in the water, then strain and reserve the liquid.
Step 2 : Heat the oil in a wok or a large saucepan and cook Fable over high heat for 3-5 minutes, or until browned. Fry the potatoes and cardamon pods for 3-5 minutes, then add the coconut milk and simmer for 25 minutes.
Step 3 : Put the thick coconut cream in a saucepan bring to a rapid simmer over medium heat stirring occasionally and cook for 5-10 minutes.
Step 4 : Add the curry paste and onion, cook for 5 minutes or until paste becomes aromatic and onions soften. Add the slightly fried Fable, potato mixture, fish sauce, sugar, peanuts and tamarind liquid, and let simmer for 10-15 minutes. 
Step 5 : Garnish with fresh coriander leaves and serve hot with your side dish of choice.
Ingredients
Quantity
Price

Fable Plant Based Braised Meat 1kg

This product is not available in this quantity

RM85.00
Products of the recipe