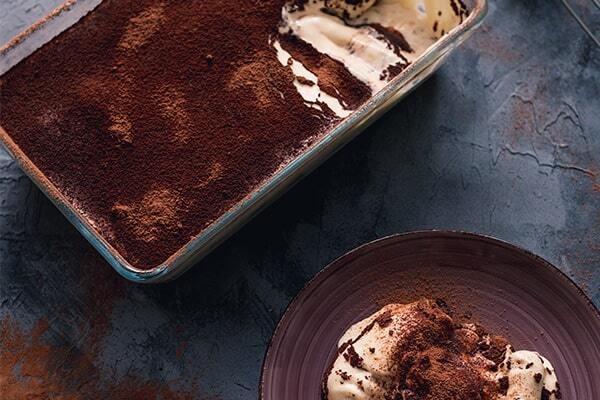 Tiramisu
Easy - 30 Min
style

Dish type:

Pastry & Desserts
poll

Difficulty:

Easy
access_time

Preparation time:

30 min
timer

Cooking time:

0 min
place

Region:

Italy
euro_symbol

Cost:

RM135.50
Recipe offered by Classic Deli. Thanks to him!
Preparation
Ingredients
250g Mascarpone
250g Whipped cream
50g Sugar
1 Vanilla pod
1 Cup of coffee
20 Biscuit ladyfingers
Cocoa powder
Step By Step
Step 1 : Whisk the whipped cream with 25g sugar until the substance becomes frothy. Put the mixture in the fridge.
Step 2 : Mix the mascarpone with the other 25g sugar, and vanilla pod well together. Mix the whipped cream and the mascarpone together with a spatula. Mix gently and brew a cup of coffee (espresso).
Step 3 : Spread a layer of mascarpone cream on the bottom of the dish, then place a layer of ladyfingers biscuits lightly soaked in the coffee.
Step 4 : Repeat this, and finish by a layer of mascarpone cream. Sprinkle the top by adding cocoa powder. Place in the fridge for at least 3 hours. 
Ingredients
Quantity
Price

Whipping Cream 35% (1L)

This product is not available in this quantity

RM28.00

Madagascar Bourbon Vanilla Pods (2pcs)

This product is not available in this quantity

RM45.00

Cocoa Powder (250gm)

This product is not available in this quantity

RM62.50
Products of the recipe