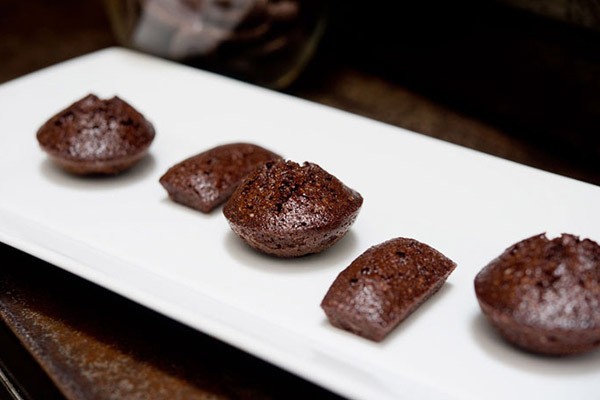 Tonka Flavored Financier Sponges
Easy - 120 Min
style

Dish type:

Pastry & Desserts
poll

Difficulty:

Easy
access_time

Preparation time:

120 min
timer

Cooking time:

15 min
place

Region:

France
euro_symbol

Cost:

RM451.50
Recipe offered by Classic Deli. Thanks to him!
Preparation
Ingredients
1 Tonka bean
275g Whipping cream 
220g Dark Chocolate Caraïbe 66% 
205g Egg whites 
100g Powdered sugar
75g Pastry flour
75g Almond flour
8g  Baking powder
110g Butter 
Preparation
Step 1: Grate the tonka bean into the cream and heat. Leave to infuse for 5 minutes, then strain.
Step 2 : Make a ganache by gradually combining the hot cream with the melted Caraibe.
Step 3 : Mix the egg whites with the sifted dry ingredients. Add the lukewarm melted butter, followed by the ganache. Smooth out. 
Step 4 : Leave to rest in the refrigerator for 1-2 hours before use. Pipe out into silicone molds.
Step 5 : Bake in a fan-assisted oven at 340°F (170°C) for 15 minutes.
Ingredients
Quantity
Price

Unsalted Butter Roll (250g)

This product is not available in this quantity

RM19.50

Terre Exotique Tonka Beans (50gm)

This product is not available in this quantity

RM44.00

Whipping Cream 35% (1L)

This product is not available in this quantity

RM28.00

Dark Chocolate Couverture Caraibe 66% Buttons (3kg)

This product is not available in this quantity

RM360.00
Products of the recipe